This May 1st holiday, did you go out for fun? Ms Yu, a 23-year-old girl working in Hangzhou, made her plan before the holiday - Stay home to cook food for 5 consecutive days to reward herself.

"Actually I'm not good at cooking." Ms Yu said. What brought her confidence cook food in kitchen?  A dozen small domestic appliances she bought gradually after her graduation last year. In her kitchen, there are full of various small domestic appliances/SDA that she bought; an air fryer, a direct-drink water maker, an automatic egg beater, a sparkling water maker,etc.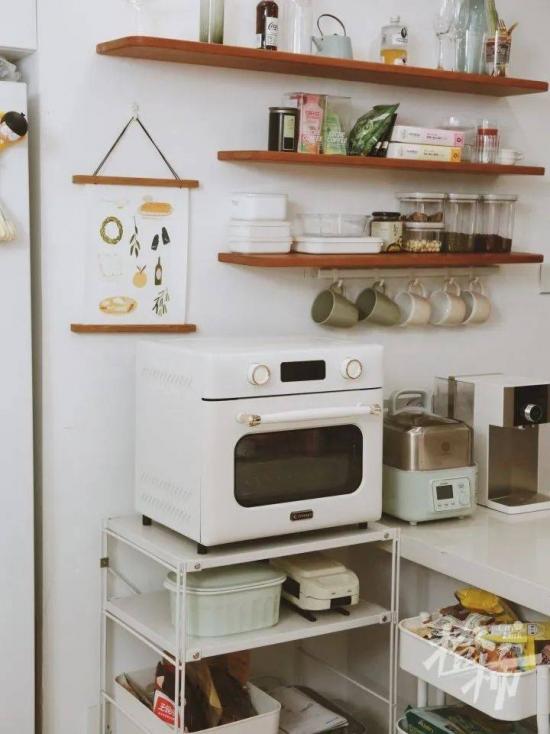 In order to put these small domestic appliances/SDA in a kitchen of less than 4㎡, Ms Yu created a world in an oyster, she not only bought storage tools such as boards and hooks, but also customized vertical storage shelf specifically with total cost reached over ¥10,000(USD1,428).

Why do young people of this generation like Ms Yu fall so "deeply" in love with small domestic appliances/SDA

To store SDA, it costs over ¥10,000(USD1,428)

After getting home from work, Ms Yu will make a cup of refreshing sparkling water with a sparkling water maker, and then put the fatty beef, vegetables and noodle into the multi-function cooker,following the recipe from internet, meanwhile make another 2 egg tarts with the air fryer,these are Yu's daily routine.

After graduation last year, Ms Yu came alone to work in Hangzhou. In order to get rid of the loneliness in a distant city, she fell in love with cooking, which she was not good at. For a cook novice like Ms Yu, she can not make food without the versatile cook tools.

Been in Hangzhou for a year, she bought gradually over 10 SDA appliances with prices range from ¥300(USD43) to ¥500(USD71). Although these SDA appliances satisfies her needs to copy many popular delicacies, they also create an issue. "The kitchen area is less than 4㎡,while pots,pans and SDA appliances are messy everywhere, making every cooking a sweep-up."

Many people have the storage issue of SDA appliances in kitchen like Ms Yu.

Ms Lin,a Hangzhou local bought 5 SDA appliances like an air fryer and a direct-drinking water dispenser,after moving to a new home last year.As the SDA appliances take up too much space, Ms Lin could not fit them into the dinning cabinet, and she has to squeeze the occasionally used breakfast maker into the balcony cabinet.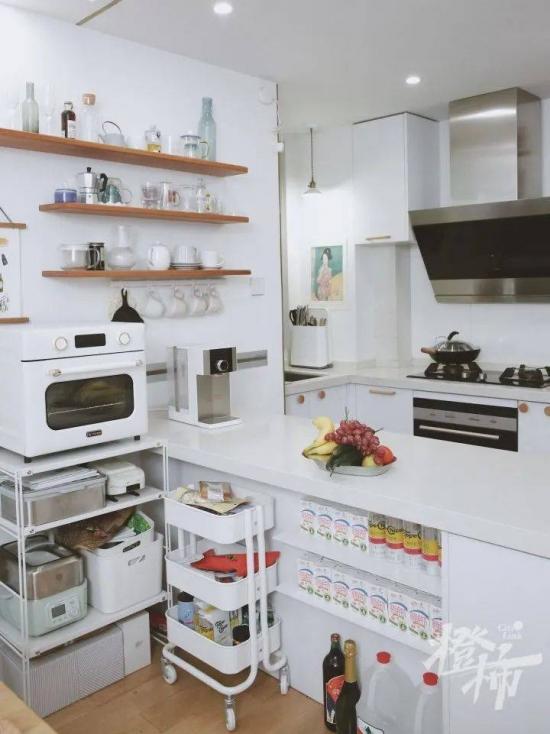 Search for "kitchen storage" on Xiaohongshu App, and there are already more than 40,000 notes. In order not to let messy SDA appliances ruin mood, Ms Yu followed the layout ideas of home bloggers ,ordered a table storage shelf, a four-story vertical shelf, hole boards, hooks and other storage tools, and made specially a renovation plan for the kitchen.

The rice cooker and the induction cooker must be placed on the top, buy a sturdy iron-art storage shelf and put the air fryer and health kettle on the second floor, which suddenly freed up space.

The vertical storage shelf is specially customized after measuring the distance between the cook table and the refrigerator. It is a narrow and long wooden shelf for SDA appliances like juicer, blender and egg beaters etc. "The use frequency of these SDA appliances is not high,they take up space on the counter, and not convenient to look for in the cabinet,they are more organized on the shelf."

Ms Yu also put a hole board on the wall of the cook table, so small items such as pot lids, cutting boards and spice boxes can be "glued" to the wall, using the vertical storage space. "There are still a lot of storage tools online that make use of spare corner space, which are very useful for people like me who have many tools while with small space."

Ms Yu did the calculation,It cost over ¥10,000(USD1,428) to buy these SDA appliances, and nearly ¥10,000(USD1,428)to buy storage tools. Spending over ¥20,000 (USD2,856) on such many small SDA gadgets looks unworthy in many others' opinions , Though Ms Yu thinks it's worth it. "To be frank, whether buy SDA appliances or specific storage tools, it's all about making life more exquisite."

SDA appliances, are they real demands or fake?

In early 2020, with the explosion of "stay-home economy" ,plus the popularity of live shopping, SDA appliances began to "occupy" the kitchens of youngsters.

Manufacturers of SDA appliances constantly segmented consumers' behaviors and habits, and brought new senses of ceremony and new experiences to them by launching  new product categories like stick barbecue grill ,egg beater, breakfast maker,bean sprout maker and air fryer etc.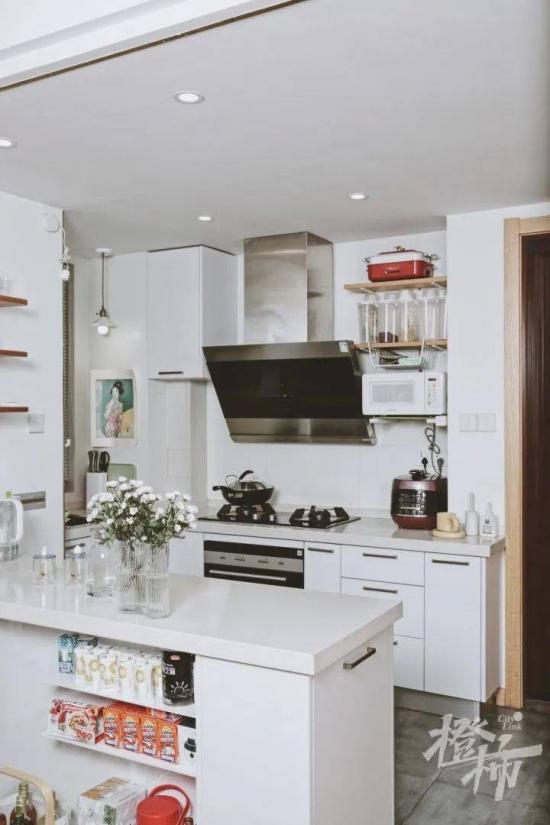 Though the kitchen is mostly occupied, Ms Yu recently spent nearly ¥300(USD43) on another sparkling water maker,since she likes to drink soda drinks and sparkling water, Ms Yu has no resistance to this self-made sparkling water maker. "The appliances cost less than ¥300(USD43), and can make more than 100 bottles of sparkling water, much cheaper than to buy Perrier water."

Before May 1st holiday, Ms Yu also bought an egg cooker, "Watched a video by a food blogger, the egg cooker can not only boil eggs just right, but also steam frozen baozi and coarse food together, can make a simple breakfast very quickly."

As how Ms Yu feels, Ms Lin feedback positively to the fruit dryer she recently bought. "Vegetables, fruit, meat, fish, put them in before you go to bed and the next morning you can eat delicacies without any additives, and the taste is not bad."

Now, another wonderful use of the fruit dryer is to make dried chicken for her pet dog every weekend, which kept in refrigerator to feed the dog for a long time.

However, there are SDA appliances invested successfully, and there are also SDA appliances that 2 kitchen lovers call  "landmine".

Before the holiday, Ms Yu bought a sandwich maker endorsed by many food bloggers previously. Since the function is too single, it is tabled after few uses. "The appliance only has a heating function. I have to prepare the toast and vegetables, wash them and cut them, for which I don't have the time in the morning."

Ms Yu also bought an ice cream maker and a juicer."It's too difficult to clean. After using it once, I put it into the balcony cabinet to 'eat the ashes'."

Ms Lin said her "investment" in the breakfast maker failed. One side is a pot for heating milk, and the other side can fry eggs and sausages.Change the pot, you can heat sandwiches or make waffles. The divided operation seems terrific and scientific,but actually,the appliance can only bake one egg or sandwich at a time, which is only a kid's meal. the pot of heating milk often takes ten minutes before it boils, low efficiency. After half a year, Ms Lin feeds back: looks good,little use.

The data shows, it is not easy to  fool consumers with senses. According to the data from Aoweiyun, retail sales of SDA appliances (12 categories) in 2021 is ¥51.4 billion, down by 14.1% year-over-year; retail sales quantity will be 240 million units, down by 13.5%.

Although some SDA appliances are of little use, the fast update speed, good-looking appearance and low price, can always attract appearance judge like Ms Yu and Ms Lin to buy.

"Recently, I saw a full-function milk tea maker,it can heat milk, boil water, make coffee, and froth milk,only costs about ¥200," Ms Yu said, after watching a video with many functions and high appearance value, She could not resist the eager impulse to buy one.

Mr Liang Zhenpeng, an analyst in the home appliance industry, pointed out that quality, intelligence and technology are trends in the industry. In the future, SDA appliances will also have to seek larger market space in future of intelligence and high-end.

Are you a loyal consumer of SDA appliances, how many types of SDA appliances do you have and how are they placed?

Source: http://news.cheaa.com/2022/0504/606787.shtml